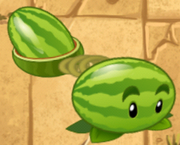 The Melon-Pult is a returning plant in Plants VS Zombies 2: Its About Time. It can lob melons that damage zombies in groups.
Its sun cost has been added more to being 325.
It lobs melons
Not much is known about it
Its similar to Kernel-Pult and Cabbage-Pult
Its plant food upgrade is he will shoot melons out of the top of his head.
Other