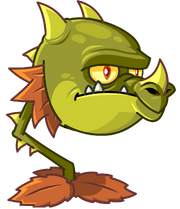 Snapdragon is a new plant in Plants VS Zombies 2: Its About Time and Plants vs. Zombies: Garden Warfare. It emits a wall of fire that hits zombies in three lanes at once
Because of its name, its face resembles a dragon.
It is the second Plant to have a Venus Flytrap-like shape. The first one was Chomper.
Its name is based on real-life Snapdragons, a type of flower.
Gameplay