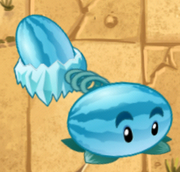 The Winter Melon is a returning plant in Plants VS Zombies 2: Its About Time. It can lob frozen melons at groups of zombies.
It used to be an upgrade plant
It lobs frozen melons from a catapult
Not much is known about it.
It costs 500 sun now and that is a BIG change.
Other